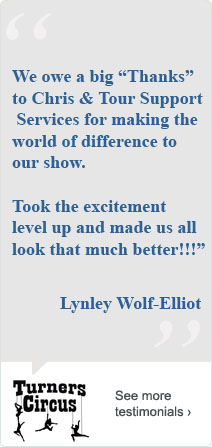 SOUND & LIGHTING
Festivals to corporate functions, our sound and lighting packages are adaptable for every client.
In the sound department, JBL, QSC, Behringer/Midas lead the group for our larger system.  Mackie, DBX & Yamaha head up the corporate "speakers on sticks" requirements. Avid Protools 9 w/ Apple Imac & Roland take care of the mobile recording and voice-over services. We stock wireless microphone systems, press feeds, and broadcast splitters. Also available are a full compliment of Motorola 2-way handheld radios.
In the lighting department, small and portable 8 fixture PAR 56 systems with trees/dimmers are cased and ready for use. Trussing and additional systems can be added for up to 72 instruments.  Altman 6″x9″ & 6″x12″ ellipsoidal fixtures as well as Altman 902 short throw spotlights with communication are available. LED up lighting, haze/smoke/bubble machines, strobe lights, mirror balls, and a laser system round out the effects on hand. Great for theaters, schools, churches, weddings, photoshoots, or performing artists.
For the corporate client, we have 200′ of "pipe and drape" available, incorporating black 8'x10′ drapery systems with black bases and black uprights.  Podiums are also available.